Support Gastroenterology Consultants of Savannah at the Savannah Take Steps Walk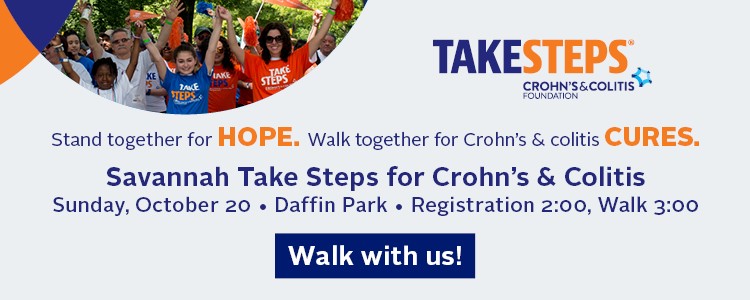 One in 100 Americans live with Crohn's disease and ulcerative colitis, yet there is no cure. That's why Gastroenterology Consultants of Savannah is participating in Take Steps on Sunday, October 20, at Daffin Park. Check-in and festival start is at 2pm while the walk begins at 3pm.
Our team will be uniting together for hope, and walking together for cures in a welcoming and inspiring event. We're joining our community in the fight against IBD and have set a team goal to raise more than $2,500 for the Crohn's & Colitis Foundation!
IBD affects more individuals than you may think it is estimated that as many as 3 million Americans suffer from Crohn's and colitis every day.
Your donation will help support local patient programs, as well as important research projects. Please join our team or donate to our efforts to support crucial IBD research.
Thank you in advance for making a difference in the fight against IBD!